By Katara Jordan
Last week marked an important milestone for Washington's three-year old Homeless Student Stability Program (HSSP). On May 21, 2019, Governor Inslee signed Substitute Senate Bill (SSB) 5324 into law. SSB 5324 makes significant improvements to HSSP and furthers our state's commitment to strengthen and complement federal efforts to ensure students experiencing homelessness attend the same schools, maintain housing stability, and improve academic achievement. This win capped an intensive advocacy effort led by Building Changes under its Schoolhouse Washington project. That SSB 5324 maintained overwhelming bipartisan support throughout the legislative session was remarkable. In fact, the bill passed out of the House unanimously, with unanimous agreement from the Senate. What's even more remarkable are the voices and collective wisdom of people deeply committed to making HSSP a strong and effective program.
HSSP would not be the program it is today without the vocal support and critical input of students, families, homeless liaisons, and key partners. For example:
The Mockingbird Society's Youth Advocates Ending Homelessness (YAEH) taught us why all schools need building points of contacts to increase capacity and equip all schools to better identify students experiencing homelessness.
State agencies responsible for HSSP implementation, such as the Office of Superintendent of Public Instruction (OSPI) and the Department of Commerce, helped us understand the importance of making the bill language flexible to promote better technical assistance and training.
Homeless liaisons and community providers challenged us to make the language stronger, shared personal experiences with implementation challenges, and provided insight on needed changes that bring HSSP closer to its intended purpose.
It is not uncommon in advocacy work to have a diverse set of key stakeholders collectively work together to support a policy effort or goal. In fact, effective policy and advocacy work with an eye towards smart implementation often requires the input of direct beneficiaries, service providers, and government and policymakers all working together to develop policy solutions.
Yet, I was struck by how eager stakeholders from different regions, organizations, systems, backgrounds, and interests organically came together to support an effort to improve a relatively new state program. I was blown away by the inspiring testimonies of liaisons, parents, and students from all corners of the state – from Spokane to Bellingham, Everett to Wenatchee, South Whidbey to North Thurston. Every person spoke to the importance of HSSP and how the program is a vital investment having tremendous positive impact on students and families experiencing homelessness.
HSSP is one of the most comprehensive state-funded programs in the nation dedicated to supporting the academic success and housing stability of students and families experiencing homelessness. Powerful voices have and will continue to shape the program, Washington's leadership in this arena, and our efforts to continue developing a comprehensive response to the education and housing needs of students experiencing homelessness.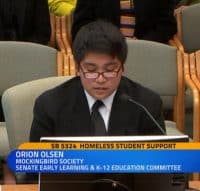 Testimony by Orion Olsen, Youth Advocate, The Mockingbird Society (1 min 20 sec clip)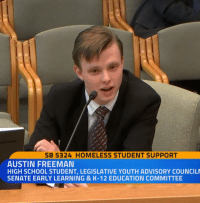 Testimony by Austin Freeman, High School Student, Legislative Youth Advisory Council (1 min 23 sec clip)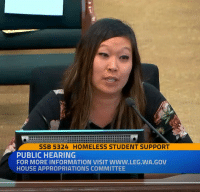 Testimony by Samie Iverson, McKinney-Vento Liaison, Tacoma Public Schools (1 min 56 sec clip)
What The New Law Means
When SSB 5324 goes into effect this summer:
Building points of contact will be required at all school levels, not just middle and high schools;
Grant delivery will be streamlined and enhanced, which will help promote students' housing stability and academic outcomes;
Communities from across the state will be encouraged to apply and submit proposals that are tailored to their needs; and
Grant recipients will be encouraged to develop and implement strategies focused on supporting students of color, who are disproportionately represented among students experiencing homelessness.
LEARN MORE:
2019 Policy Priority: The Homeless Student Stability Program
Student homelessness in Washington State:
Katara Jordan, JD, MSW, is Senior Manager of Policy & Advocacy at Building Changes.